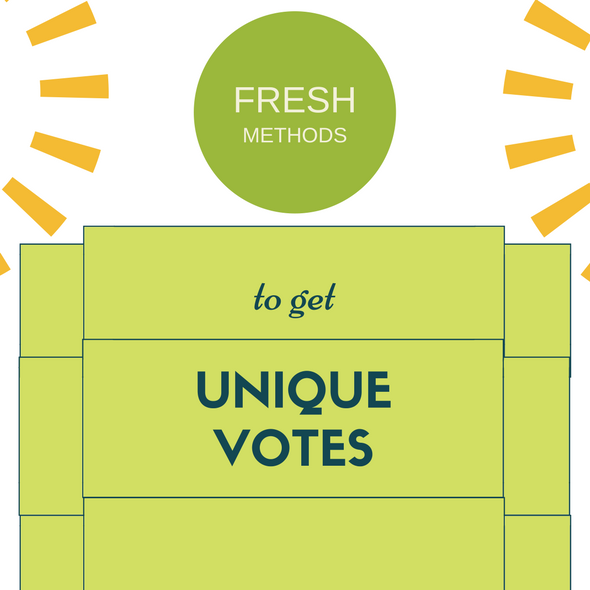 Finding new idea and applying it to do experiment is always hard job.
Isn't it?
Today, we show you how these new methods help you to get quality votes for contest.
Let's get started,
1. Live Video Creation
You can see many of the social networking marketers start to create engage contents through live video.
Facebook live is one of the finest option to start your live video in 2017.
Even If you are a small business owner, you should have at least 50 to 100 customers Emails in your data.
Am I right?
Great, the big marketing professionals tell that you can improve your audience growth, when you share your live video with your current audience.
Live video gives high trust to the audience.
When you request votes with them live and the chances of getting more votes will become high.
It is really a true cost effective method because you can use mobiles to take live videos.
Start to post live videos twice a week from the beginning of your contest to the end to get natural flow of votes.
Bonus Tip: Remember, you can advertise products through live video to increase conversions rate.
2. Running a Successful Ad Campaign
Recent case studies tell that Facebook is the number 1 ad marketing platform for business marketers online.
This is according to the social networking sites only and not compared with search ads like Google.
A popular post from Emarketer.com shows that ad revenues value of Facebook will increase 36% from 2016.
So this method will help you 100% to get votes in natural way.
Attractive ads are staying right hand side of the facebook page and they are working better than the news feed ads.
Normally, news feed ads take few seconds to load so there is no guarantee to attract the visitor.
You can also try the new ad type of facebook messenger ads to attract more eyes.
On your ad, request your audience to vote for your entry.
And remember to include your contest page link on your ads.
3. Use Your Popular Instagram Page
This method is only for the people who have great fan base in Instagram like 10,000 plus followers on the business page.
A post by Jenn Herman from socialmediaexplainer.com tells that "People using instagram for local business searching like Yelp.com"
From your instagram stories, take a photo which is related to your landing page (the contest entry page).
Add your landing page link using a URL shortener to the instagram story image.
Why you shouldn't apply the landing page link directly?
Instagram hasn't track story links data so we have to use URL shortener.
Whenever your visitors look on your image, it shows option as "See More" on the image.
If they click "see more" and your voting entry page will open for voting.
Don't use the same strategy for all your contests to get high click through rates.
You can also add clickable location stickers and hastags to make your stories seen by many people.
Conclusion:
Apply these all new three strategies mention above for your contest and let us know the results you gather from it.
If you already have some experiences about these methods, please do share.
Thanks!
New Methods to Get Quality Votes for Contest