Marketers and business owners search often for strategies which are working right to promote products on Social Media.
Here are the proven strategies which help to improve your traffic and sales.
Let's get started!
E commerce Business with Google AdWords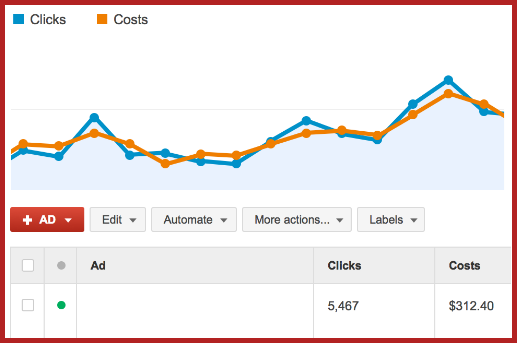 At start, increasing initial traffic for your new website is really hard.
Adwords is your perfect place to get started.
You have to find how to use Adwords effectively to increase sales without making mistakes.
Adwords has two types of advertising networks:
The search network PPC
The Display network PPC
These paid search networks show your ads on the top of organic search on Google.
Have a look at this article (How to Use Google AdWords) to find the top strategies to use Adwords effectively for your product promotion.
When you get sales from Adwords traffic, you should track all the email addresses.
And you must retarget your audience via Facebook marketing to get sales.
To get help about re targeting visit this page.
Twitter Ads

When we search on Twitter for a specific keyword and it shows a promoted tweet on the top of search results.
People advertise their business using their attractive tweets.
So you can use your Tweet feed to promote your engaged content with right audience to boost your business authority.
Twitter advertising is only available for few countries are US, Ireland, UK and Canada.
The ancient method for gathering followers is following others to get them follow us.
But this is slow process and when people see your profile, you should follow less people so it looks perfect to the audience.
For increasing your followers in short time period, you can use twitter ads.
One of the best benefits of running twitter ads is lead generation cards.
You can use your existing promoted tweet with capturing opt in forms to gather name and email addresses of your followers directly from Twitter.
And choose the best CRM provider to collect the database from Twitter.
Instagram Ads
Highest number of mobile traffic use Instagram and every marketer should target this audience to market their business/brand.
Pew Research Center report says that Instagram has great pulse with US people.
Here is the data below that shows Instgarm is growing to 28% of total internet users in US.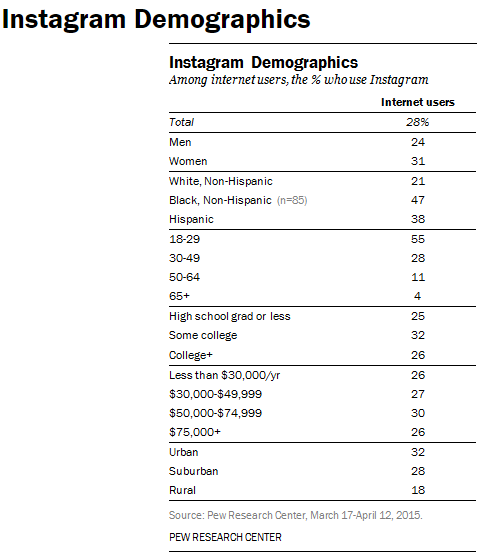 Advertisers have more interest on using Instagram ads services says, Emarketer.com from their research.
Twitter got 62.2 % and Instagram reached 74.2 % from the research as below.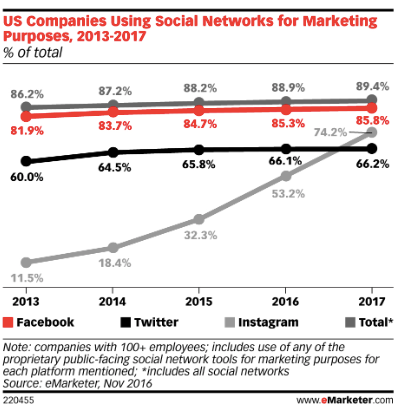 Instagram allows three type of advertising as follow:
Photo Ads
Video Ads
Carousel ads
The first step to get more clicks from your ads is creating a add content which feels the audience organic.
This article from Mobile Marketing Association says, Natural ads always get more clicks.
Instagram case studies say that ad recall of sponsored ads is 2.8 X higher than any other social networks.
You can target the right audience easily using Instagram.
Facebook owns Instagram and everyone knows it.
From the experience of Facebook advertising platform, the instagram advertising tools give super features to target the right audience.
Conclusion
Before start to market your business, think and research well about your competitor strategies to find the best working platform.
And test every platform for a month using minimum budget and track your results and check them to find the best working social media network.
Social Media Marketing Is the Key to Promote Your Products