We all know that it is not easy to run a small business.
It requires extreme dedication and a group of professionals working extremely hard for its smooth operation.
Back in the days, the only way to promote your business was by means of physical and television advertisements.
But the present scenario is quite different.
You have your own website, perhaps a page on Facebook and Twitter too.
A great way for promotion is by creating a contest which attracts a large number of traffic.
You can design a simple lucky draw contest to more complex ones involving judges.
In today's world social media is very important to us and we all spend some hours going through Facebook or Twitter.
Facebook contests can help you achieve a lot within a very short time. Reach out to new audiences in this efficient way to reach your business goals.
The Prize and Entry method
Firstly, you need to choose an appropriate prize for your contest and decide the entry method.
The number of entries depends on the prize.
If you give away something relevant to your business, it is a smart strategy.
People will get to know your products a lot better.
You can also give a gift card as a prize which can be used to buy your company's products.
This allows people to choose from a wider range of products and certainly attract a lot of people and increase their willingness to participate.
The success rate of a contest is not dependent on the number of entries.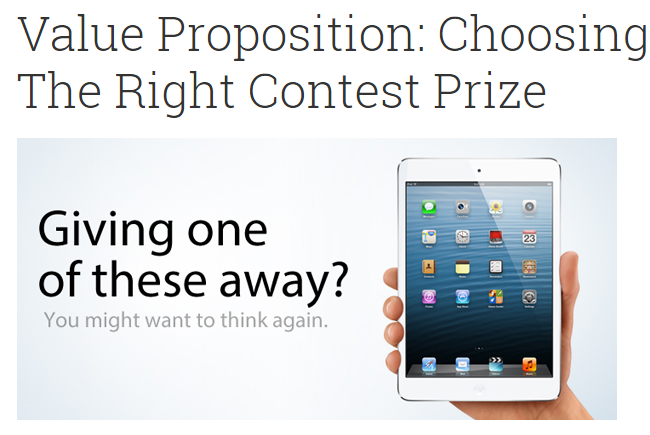 Giving away an iPad can attract huge number of participants, but you don't truly gain from these kinds of contests. Check out this article from Steven Kovar to get idea to choose best contest prize.
Your main aim should be promoting your business and your products. So a gift card or a useful product is a much better choice.
Next step is to check whether the entries are legitimate.
When you have decided upon a winner for your contest, ask for proper identification details.
If the participant fails to provide proper documents, he/she should be disqualified.
During participation, you can ask the contestants for referral which would further boost the number of entries.
Designing the Contest Page
To start things off, a contest page needs to be created.
The design should be very exciting and involve bright colors and relevant images.
A catchy headline along with all the necessary information should be provided.
Try to keep things simple yet informative at the same time.
For finding the best designer at cheap price, visit freelancer website.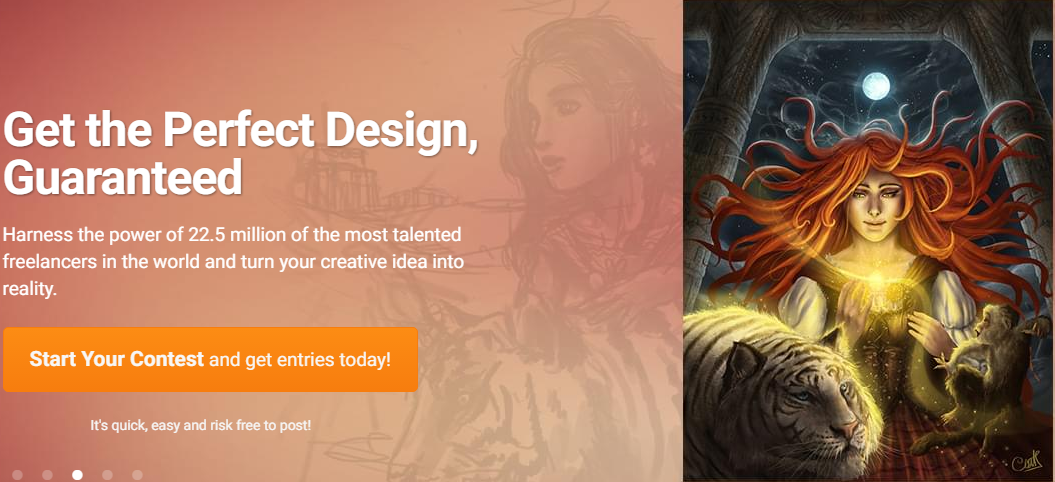 The best thing you can do is to put up an image of the prize which would make the contestants feel excited about the contest.
If you are giving a gift card, share how much it is worth.
Describe in details the entry method, rules and regulations, deadlines etc. on this page.
To add even more flexibility, give options to your participants to share the contest link on their Facebook timeline.
In this way, your contest gets promoted without your direct efforts.
Promote your contest
There are many ways in which you can promote your contest. Follow these guidelines for better results.
Sending an email blast will help you reach all your customers at one go. You have your customers email lists and share all the valuable information directly as an email.
           Check out this resource from wishpond for more on this feature.
Facebook is not the only social media platform today. Twitter and Instagram are the biggest alternatives. So why restrict your contest only to Facebook? Create a separate page on these other platforms for an even better response.
You should add a banner on your company's website. In this way, people who are not much active on social media but visits your website on a regular basis gets to know about the contest.
Get in touch with websites that list contests. A large group of people gets to know about these contests from these websites.
Facebook page insights help you track the number of entries, likes, share and traffic on your contest page.
Additionally, you can set up Google alerts to keep an eye on the contest.
Real time tracking applications like Wishpond Campaign comes in very handy in these situations.
While the contest is running, get detailed information on any activity which you may find important at a particular time.
Wrap things up
When the contest ends, you need to announce the winner(s) in the most unique way possible.
A great idea is to make a video and congratulate them.
Participants love these kinds of videos since they also get a chance to come in the limelight.
Following these above guidelines, you can successfully run a contest on Facebook and promote your business in the most efficient manner.
But make sure that the security features for your contest is not compromised at any time and it runs in the most unbiased manner.
Keep socializing to reach your business goals.
Guidelines On How To Run A Facebook Contest For Promotional Purposes