Lots of corporations and reputed brands plan to organize an online voting contest to know the reaction of the common public. And in most cases, they use the platform of Facebook to carry out these contests. These contests not only raise awareness but also encourage the community in the web world. The brands are also able to communicate with the help these contests. They can recognize their fans and learn many other things from the online contests.
While you personally have entered a vote-based contest at Facebook, you perhaps want to request your contacts and friends to favor you through voting. However, there're some tricks and effective ways through which you may gather the attention of several voters. You will turn out to be a winner with the maximum number of votes.
Facebook group- Create it and get votes–
It is very easy to create a group on the Facebook platform. So, you may better accomplish the most important task of creating a vast Facebook group. This group will allow you to draw lots of users, who have the intention of making you the winner. You may consider your own rules that will enable you in convincing several people for supporting you for all the contests. The members in your group will not only vote for you but also give you encouragement.
For each of the contests, you have to build up only one group, and you can increase your chance of winning the competition.
Take part in a group, intended to exchange votes–
As one of the regular Facebook users, you know that there are many groups, where the members requests for their votes only to win a contest. If you vote other people to help them, then they may also cast the vote in favor of you.
However, you should remember that these groups are not permanent. They are created by someone and also deactivated on a regular basis. Thus, you need to browse Facebook to get the presently activated groups.
You can know more about this topic from our post about exchange votes.
Ensure your own knowledge about the contest rules-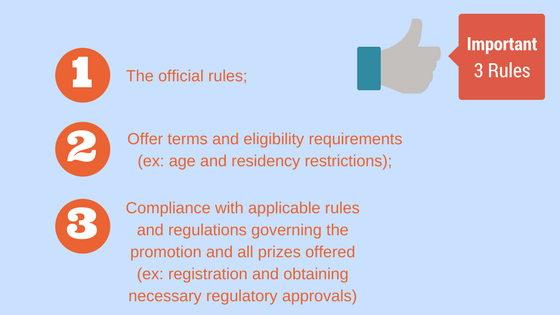 The above sample picture shows the important 3 rules for Facebook contests.
You have to read the T&Cs, related to your contests. This will allow you to understand whether you have consent to appeal for votes. The rules may also state whether a particular person has the chance of voting several times every day. While you don't have an idea on these rules, you may lose many votes. At times, you have permission to appeal for Facebook votes just from friends and relatives. If you have violated this rule, you can get disqualified in the contest.  
Copy the online contest link, and post it on the Facebook timeline. Make a request to your intimate friends, who are willing to assist you or who are your fans. Perhaps, all your friends have not interested in this deal, and in this case, you may consider your own Friend List for appealing for the votes.
You may also try to make friends with those Facebook users, who have also participated in various contests. This will enhance your chance of becoming a winner. They know the value of votes to a competitor, and that's why they may be more enthusiastic to provide you with the best assistance.
Spread information-
You should know whether all the members in your Facebook account know about your participating in the contest. Give your friends clear information and instructions through email. It is also essential to main the contest link so that they can click on it and get all other details about the contest. Make all your posts visible to the public. Thus, all other users, who are not in your Friend List, may view at your posts.
You may also visit the online forums in order to inform others about your entry in any competition. This will also increase the vote percentage in your favor.
Use all other traditional or online media-
If you have lots of followers on Tumblr and Twitter, you may persuade them to boost up your power through voting. In addition to it, you can also distribute leaflets in many public areas to promote yourself. It will allow them to make new contact with you through Facebook and vote for your success.
These are the best ways of obtaining Facebook votes to win any contest. Though many winners prefer these tips to become successful, you may need to careful while considering them. In many contests, there are restrictions and rules on how you have to take the chances of winning votes. That is why you should know all the details, relevant to the contest. If you have queries, you can also speak to those, who have organized the contests. Apart from these tactics of gaining votes, your opportunity to get success depends on the skill that you have shown in the contest.
Facebook votes- Attract lots of voters to vote in your favor