The best practice to stop investing more time on social media is participating online sweepstakes.
Because, it helps you to get more prizes online.
Participating online sweepstakes is very simple than you imagine.
There are tons of online sweepstakes available worldwide.
The key is choosing the right one (relevant to your niche) to join.
So, how to choose the perfect sweepstakes to enter?
Let's start to find from these tips might help you to find the best one.
How to Find the Best Online Sweepstakes Directory
Do a search for keyword "online sweepstakes directory" on search engines like Google.
You can see list of sites one by one. Just copy (Ctrl + C on keyboard) every website link and paste (Ctrl + V on keyboard) them in to a excel sheet.
Why we take list of sites than one because no single site can have list of all countries targeted, different types based sweepstakes.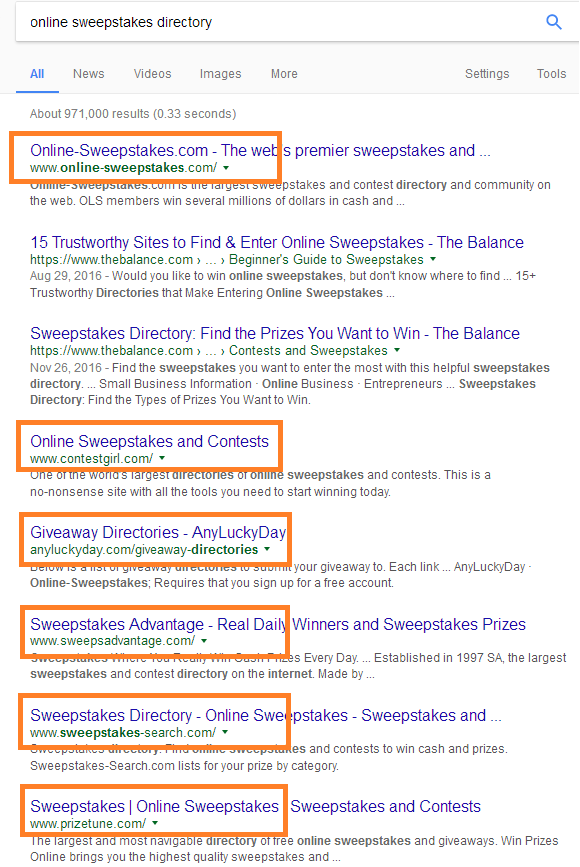 It's time to check each directory to find useful and relevant sweepstakes.
Basically, these directory sites have many categories like below:
Daily Entries
Single Entries
Weekly Entries
Monthly Entries
Big Prizes
Some sites have list for specific prize entries like below:
Audio Equipment
Jewelry
Home
Music Items
Sporting Goods
Check out this site to find the different types of entries.
Subscribe Newsletter for Tips 
From the list of directory sites, select the sites which are having newsletter option.
Start to subscribe for their newsletter.
Because, they will share you super ideas and tips to find how to win contests (100% free).
Will you miss this?
These sites probably send you newsletters twice a week.
So, don't hesitate to subscribe.
Read all their tips and apply them to your sweepstakes to win.
Is the Directory has healthy Community?  
Most of the popular directory sites have forum to share your queries to get answered.
But, the community should have more members.
So we can see more questions, solved answers and new queries regularly.
Active users are worth like diamond because they help to run the community like fuel.
When a community has big volume of members, it's your place to join.
Keep in mind that "The busy community must have lots of Sweepstakes list".
Check sites traffic
So you have some selected sites from the list.
Now you have to find the traffic they are receiving.
How to do that?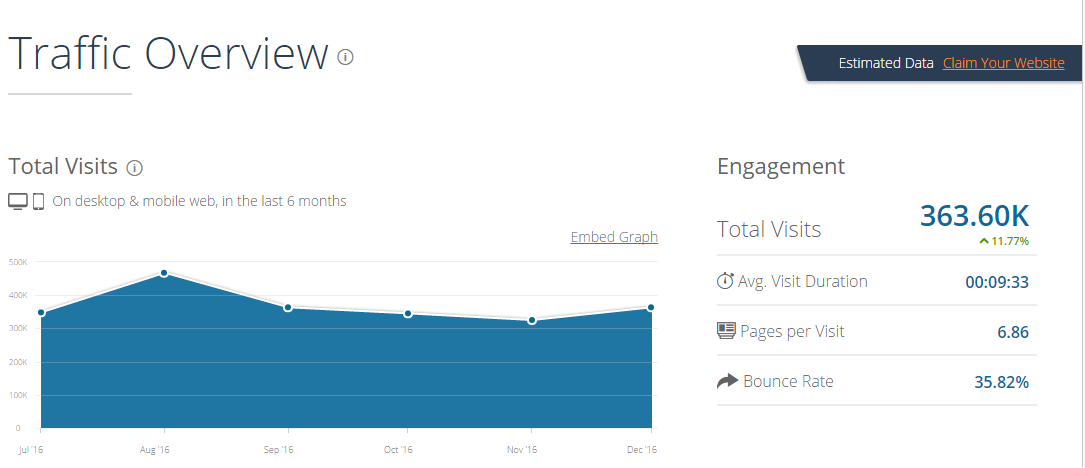 Log on to: similarweb.com
And type your desired website name to look for their traffic.
Hit search and the results page open like this picture below.
You can see the traffic volume and their sources.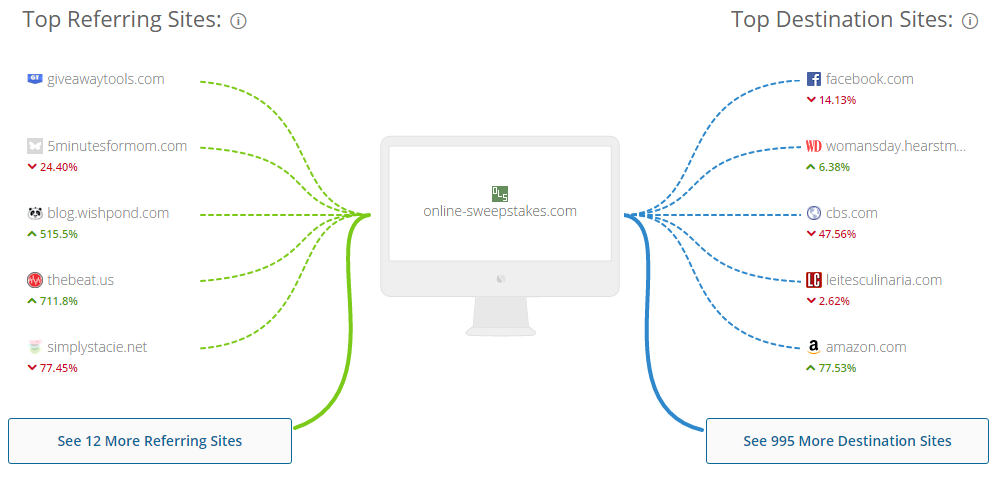 You can check this basic traffic report for free.
When you need more detailed data and you can subscribe for their plans.
How to find the Best Sweepstakes to Join
After you have successfully found the list of best directories, start to monitor for best sweepstakes.
Firstly, select the sweepstakes which has low number of contestants. Yes, because the winning percentage is high when you have only 10 contestants than 50.
How to find the sweepstakes with low competition? It is simple. When a contest has lot of rules to follow and the contestants count will be low.
Find how many prize the sweepstakes offer to the contestants. When a contest admin offers multiple prizes and we can call this sweepstakes as the best one.
If a sweepstakes offer 5 prizes, it will increase the motivation of the participants to join.
Find sweepstakes which are running near to your area and contact their support to clear your queries.
Search for reviews on search engines about the contest admin before you join. Popular sweepstakes should have shared by contestants on social media platforms about their positives/negatives.
And visit the fan pages of your contest admin to check their fan base. If your admin has high volume of followers, members and likes, it's the right place to join.
How To Choose The Best Online Sweepstakes