How often do you come across contests on social media that gain a good start but then stumble down drastically?
Sometimes the ideas are not good enough and sometimes the promotion feels lacking. Whatever maybe the reason, small contests need to be promoted sufficiently on social media in order to be successful. And talking about social media what can be better than facebook?
You need your audience to love the content of the small contests and only then will they share it with their friends thus ensuring thorough promotion.
7 strategies to promote small contests on facebook
Here are a few steps which when followed will result in successful small contests. Facebook marketing is one aspect that is rapidly gaining importance in the cyber world of social media.
One can only expect it to grow larger.
1. Ascertain the rules and regulations of Facebook first
The first thing you got to do is study the terms and conditions of services in facebook as it changes its rules and regulations time to time. Make sure that your contest complies with the terms and conditions of services in facebook (at section E) before you think of marketing it.
2. Chalk out a clear goal and objective
Before planning out the norms of the contest you must determine the objective that the contest will try to fulfill. Ensure you have a specific goal in mind that is attainable, measurable, timely and most importantly relevant.
3. Try to use an app for the contest
Sometimes the old ways are the most effective and that is why maybe using a facebook app to run the contest might be very effective. The user will be ably guided through the entry process if you follow this method. An app lets you create a tab on the page with a link that directly gives the user access to the contest page along with providing them the vital information about entering the contest as well as stating the official rules and regulations. The page must have its own URL so that you can link it to your own website or any other platform and display the status updates easily. Name the tab with the name of the contest so that things are kept simple. You do not want to complicate things for your user too much.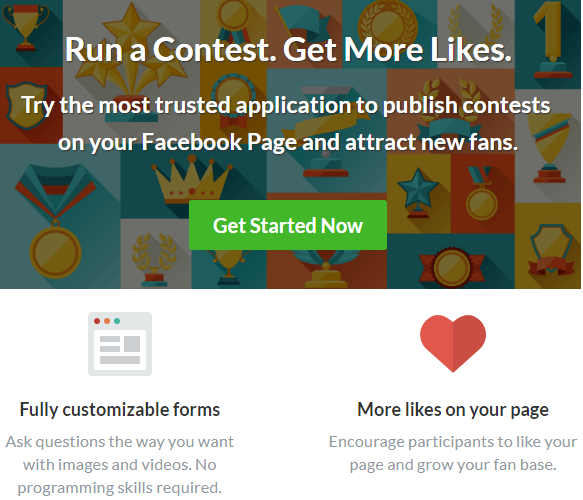 An app could prove to be more effective than posting status updates asking for likes. Make an interactive interface with quality graphics so that the viewers would get more attracted towards it.
Do you know why marketers recommend contest apps to use on Facebook? The answer is to avoid fake votes from buying online votes through voting suppliers. So check well your app to know all the features to get all the benefits from it.
4. Promotion is the key element
How you tell others about your contest is one of the key elements that go on to determine the fate of the contest. Your description should be transparent letting the fans know clearly how they can enter the contest and how exactly can they benefit from it. One effective way of promoting your contest would be by using hashtags. Users will be more inclined towards sharing it and it would hence provide you a way of measuring your success. A benefit of hashtags is that they can be used across various social platforms and therefore would increase the number of shares your content receives. Remember you must combine an easy entry procedure with great promotional tactics in order to ensure your contest gets sufficient subscribers.
5. Bring in a lot of current events
Current events manage to garner a lot of popularity if used efficiently. Incorporate current events into your contests and ensure your audience's engagement with the contest. The good thing about current events is that it keeps the majority the viewers concerned and fostering the viewer's concern can only help in promoting your contest effectively. Include the total mixture into your facebook page and see how users view and share your contest with their friends and families.
6. Encourage users to submit content and keep voting
Let your customers do the promotion for you. Just urge your viewers to submit useful and related content to your website and use them as a tactical method of promotion. In fact, user-generated content has been instrumental; in promoting a lot of other contests on facebook. It all makes perfect sense because anything that a fan submits he would usually want his friends and known acquaintances to view. Therefore, he would share his own content thereby sharing the details of your contest as well.
7. You must give an impression of urgency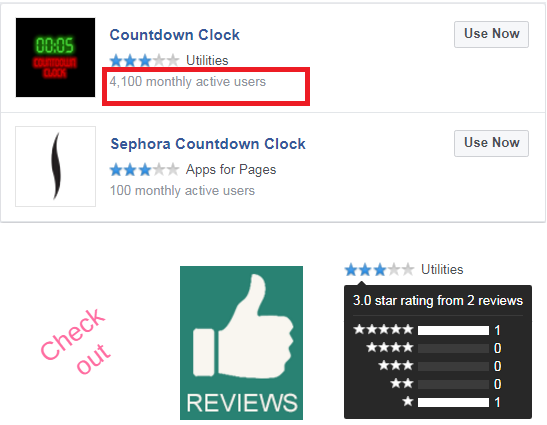 Nothing creates more buzz than spur of the moment activities. You give your audience lots of time and they will end up forgetting about the whole thing. Create an impression that time is running out and the viewers have to sign in urgently in order to take part in the contest. Keep a countdown timer which will inform the viewers the time left for entries to close. This will encourage them to sign in sooner rather than later, promoting your contest in the way.
To find the countdown timer, you can use your facebook search like the image above.
Check the reviews of the app.
Also look the new active members count growth.
7 Strategies to Improve Small Contests through Facebook Marketing